WITHOUT, HAIKU (2013, Book Baby, electronic edition)
Leigh Herrick's WITHOUT, HAIKU is full of brief, lovely poems.  The writing is evocative and, due to the nature of haiku, stark.  As a collection of poems, it is actually quite glorious....    
-Ashley McCall, Portland Book Review
Leigh Herrick has given us a glorious gift to bask in. Even if Without, Haiku only contained two poems - "Creative life..." and "An ant..." --  you would want to keep this voice of clarity close at hand.  A tender, potent vision and listening pervades.
-Naomi Shihab Nye
There is a pleasant solitude in Leigh Herrick's poems, and yet one is aware that she is embraced by a multitude of stories, of humanity, of presence in a world full of "half moons" and "ten thousand dreams."  Wider than contemplation, Without, Haiku invites participation, and stirs in us an inevitable sense of belonging.  I love these poems.  They are beyond analysis, beyond reasoning, beyond poetry. 
–Christina Chow, Visual Artist
~~~~~~~~~~~~~~~~~~~~~~~~~~~~~~~~~~~~~~~~~~~
HOME FRONT  (2012, Book Baby)
HOME FRONT is available in paperback and electronic editions.  The paperback is perfectly bound, 116 pp, with a soft cover and gloss cover finish.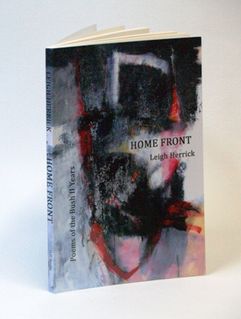 Leigh Herrick is a master of tonality and truth.  Her performative power explodes from the page into full fluency of its voicing.  I have seldom read work that so intrinsically honors both tradition and innovation in the art of poetry.  This volume is profoundly important. 
-Sheila E. Murphy
Leigh Herrick's poems are smart, direct and uncompromising calls to action, to change what we do to one another and our world....  She is one hell of a writer, not afraid to experiment with you and the language both, and her meticulously crafted prose is often astonishing. 
-Tom Cassidy
One may not wish to revisit the George W. years; however this collection of work is a wide-ranging statement addressing the anger, sorrow, and perplexity of what has affected us all.  The variety of poetic forms and hard-hitting topics confront our individual and collective pasts, and enlightens our language of remembrance.  It's time again to realize that poetry can be relevant as is eloquently shown by Ms. Herrick. 
-Scott Helmes
WITHOUT, HAIKU
"Leigh Herrick's Without, Haiku is full of brief, lovely poems. The writing is evocative and, due to the nature of haiku, stark. As a collection of poems, it is actually quite glorious. Broken down into three seasons — spring to autumn — each conveying a sense of time and place, and many imparting an emotional depth that requires skill and dedication, Without, Haiku has the potential to be a really great poetry book, but it just isn't quite there. "Without conscience—Gypsophila blossoms—Haiku—one breath." The problem does not lie in any way with the writing, but with the formatting. Haikus are short. One takes up only a few lines on a page, and the formatting of this eBook does nothing for the brevity of the form. This may seem a shallow criticism, but the lack of aesthetic appeal — and the starkness of the white screen with only a handful of words — takes away from the experience. Without, Haiku would be best as a small print book and the formatting of the eBook could be altered to be more reader-friendly and appealing. Aside from that, Herrick has done a wonderful job integrating her interest in Zen haiku into a wonderfully readable and lovely book of haikus."
—Ashley McCall, Portland Book Review
HOME FRONT
"Here Herrick has presented us with some 43 poems in varying formats, generally free verse, and a few formatted as prose, but still poetic. The work is subtitled, Poems of the Bush II Years. There are some strong opinion pieces, but this is far from a simple rant. The opening poem, presented as a sort of prefix, Child of The, is quite disturbing and was written in 2000. Here in 2003 is the next poem, which definitely rewards re-reading; you will find this: "Bending over the soiled floor of history, the sponge and bucket of thinking loosed." The tedium of daily living is driven home with repetition and fresh imagery, and the social commentary is crisp. Do read only a few, or just one, poem at a time. Do reread. Do look up everything you don't recognize (on Google). coltan. Mama Doudou. Ituri girls. Bock's car. Paul Wellstone crash. I never did find out (five search engines!) what sort of instrument a tengshaw is, until Herrick explained that it's a corruption of timsha (bells.) Look up "back of fence" village. ProdiGene. Herrick provides extra information at the end of the volume, and I still recommend you Google search for a wider understanding. The work is contemporary with a fascination with the history of domestic and international malfeasance. Foreign war, and its social cost, will not be the same in your mind after reading the bizarre rap, In Consequential Ballad. You will perhaps mimic the not-aha, but oh-god moment I had after reading the novel, The Last Song of Manuel Sendero. I could never be indifferent about oppression after that. And after reading this `ballad,' if you get even half of it, you will never be indifferent about war any more. If you are scrolling for the tiny carps, they are few and here. Kindle formatting can be treacherous and Herrick has chosen to solve it with punctuation. You will have to get used to punctuation and some square marks. Once you pass this simple hurdle you are home free. (I might have considered changing some of the longer lines for emphasis; I noticed this only once or twice and accept Herrick's decisions. Also, I am used to standardized capitalization in titles. Again, I accept Herrick's decisions here too.) These are tiny carps. Back to the important stuff. Herrick's writing is studded with images both wonderful and strange. This from Letter from the Primrose Path: "men, women, and children fire weapons or run/ among the rubble of cities that used to be where there are/ no more beds, no markets, and where all arguments stand/ with their backs against remaining walls and where/ all reasons for killing are upheld. " And this: "Your little pigeons flock and gather up the niceties like bouquets/ tied with the inoffensive lace of silent agreement not to speak" in In Love Hello Goodbye: "Will I pass the river like old songs current in the babble of tender." In J-Flag Blues: "The People got a taste of '-Qaeda/ let's all cash in on the fear/-- I feel a little war inside/ My Armageddon is here--" and reading Home Front, you will notice this: "though I am still too late for everything, late for even this, my mourning song, though it unravels from the lace of my ancient tongue." In Preying Mantra: "You can hear the prayers as they drop the bombs and the moms and dads/ in Baghdad run to find their children's missing limbs in the rubble of lessons." Herrick's viewpoint is not trivial. Back to the star count. My personal guidelines, when doing an `official' KBR review, are as follows: five stars means, roughly equal to best in genre. Rarely given. Four stars means, extremely good. Three stars means, definitely recommendable. I am a tough reviewer. Herrick's work is unusual; the closest I am aware of is Michael McClure: The New Book / A Book of Torture. Both sometimes format all over the place and use capitals at will. Given the enormous time gap between me now and last reading McClure, he must be a memorable author. I'm betting that, in a similar time gap, I'll be remembering some of Herrick's work, and I give her an additional nod for having more power in her images. Five stars it is. For those who take the time, this work will speak to you. Highly recommended."
—Jim Bennett, Kindle Book Review Team member, Amazon 
MONOCLE MAN (SINGLE)
"Leigh Herrick's flawless spoken-word poem, Monocle Man is a full-length feature film in terms of its harrowing imagery put to a beautiful, ghostly, passionate voice and equally haunting music.... There's a certain amount of patience with something like this. You just don't know what you're going to wind up with. Even the broadest mind in the world can still be surprised. I couldn't even venture a guess of what I was going to find on this two-track single. That's one of the charms of discovering spoken-word material. The best artists in the field can offer nothing less as an introduction than the element of surprise. One of the best things they can do is shake you out of a preconception about the world in general. Sometimes, that element of surprise is a good thing. Sometimes, it isn't. Monocle Man is one of those good surprises....  The first trip through Herrick's bizarre world was the most interesting one. The story is told with a voice that brings to mind weary veterans of AA meetings. Set against music that drips off the words like leaky pipes, it occasionally whips itself into a frenzy of metal banging while background vocals rise to a haunted house howl. Maybe I've been listening to too much popular music lately. That's certainly possible, and it could account for why Monocle Man's initial listen was such a shock to the system. The tone, music and some of the stronger images in the piece were so engaging that it was impossible to come to any kind of an opinion when it was all over. There was the suspicion that it was indeed a brilliant work from one of the most provocative talents in the field. That was certainly a lingering thought, but it was difficult to know for sure. Ideally, the best spoken word poetry will do this to you every time. The most enduring works are the ones that refuse to be initially and unconditionally pleasing. They want your attention for at least a handful of listens.  Knowing this I went back to it for a second round and was pleased to find my first impression emphasized and then improved upon. The voice was still there, the music and the overall scene Herrick so beautifully constructs. It was all there, and it got even better when some of the imagery began to sink in. Herrick does a truly inspired job in escalating the hushed madness in her voice and story. The great magic trick of the whole thing is in how it seems to build towards something, only to stop and settle into the everyday. Or at least it settles into Herrick's concept of the everyday. It almost seems to come full circle, but it's difficult to know that for sure. As in a lot of poetry, there's a certain amount of interpretation left to the reader. Herrick is pretty specific in what she's trying to say, but there's still some room for discussion and for what the poem pushes to the front of your thoughts and memories.  The third listen settled all thoughts on the poem for good. There was no doubt in my mind as it finished that I had just listened to one of the most profound pieces of spoken word poetry that I've heard in entirely too long. It also revealed a suspicion that had first come to mind during the first listen. Some of the most remarkable points in the story are the ones that involve Herrick describing the people around her. Some of them would probably feel right at home in a David Lynch movie. Others are commonplace figures who still gain an unnatural, almost disturbing [presence] through Herrick's voice and skill for imagery. It's in these characterizations and in painting the parts of her world that she wants us to see that Herrick gives us the best performance aspects of Monocle Man. Hers is the perfect performance for a poem such as this because it never gets too full of itself. It remains low-key and therefore enhances the rest.  Monocle Man also features a music-only track featuring the score from the piece. There's a beautiful, appropriate painting for the cover art as well. Neither of those bonuses is essential to enjoying Monocle Man, but they don't hurt. They simply make a perfect thing a contradiction by making it even better.  Believe it or not, Monocle Man is just a little over twelve minutes long." 
-Gabriel Ricard, Unlikely Stories Blog
JUST WAR (ALBUM)
"The cover notes for Leigh Herrick's twenty-track album of music, spoken word, and sung poetry, Just War, include the statement: 'The attacks that occurred in the United States on 9/11/2001 did so just 19 days before my departure to Vermont. This had a grave affect on the course of my work, not altering it, but deepening it, catapulting me into what I believe is a most necessary look at what it means to be living as a citizen of conscience on Earth and in this beautiful country, America.'  The artist's statement illustrates how Just War is not simple reactionary philosophy; neither anti-Muslim jingoism nor self-hating anti-Americanism, but a complex reaction to strange times. In pursuit of the necessary complexity, Herrick played the conga, large and medium tars, kanjira, tambourine, riq, guitar, cowbell, shekere, uyot hand rattle, tuning fork, telephone and a coconut shaker with coco beads, layering them with several vocal styles. The whole thing is done in a stripped-down production that makes you feel as if you're in a room surrounded by active, energetic musicians and singers.  We're very proud to present her tracks "In Consequential Ballad," a huge and beautiful overview of changing U.S. politics, along with the instrumental "Don't Fence Me In."  But if you restrict yourself to these tracks, you might come away with the mistaken impression that Herrick's statements are restricted to Americana.  There's a true global view in Just War, based on absolute faith in what happens in one part of the world effects the whole world. The interconnectedness of our species is explored largely through music, but also through her lyric poetry, with tracks such as "Congo Congo" and the "Passover 2002" medley. So after you're finished here, be sure to check out her tracks at CDBaby or iTunes."   
—JP Unlikely Stories 2.0